WE DEBUTED AT #10 ON THE ROOTS MUSIC REPORT TOP 50 BLUES ROCK ALBUM CHART
Stations and shows playing our music: Rock This House Radio EVW Germany; Americana Radio Netherlands; Very Big Blues WJMU Decatur IL; Blues Jean Radio Coteaux France; Jump Children ArtSound FM Australia; Jazz & Blues Tour with Studio ALphen90.0Fm in The Netherlands; Blues Deluxe Airplay; yippeekiayblues.com; Live From The Midnight Circus; HWY 49 Blues" KFOK Georgetown CA; Kudzu Blues WVKC Galesburg IL; Bluespower< Radio Weser.TV Bremerhaven/Germany; Downtown Deb's 21st Century Blues Caldonia's Crossroad Radio; Bluesbeat Radio CRN Australia; Bear Blues Show Aycliffe Radio UK; Crossroads WVBR-FM 93.5, Ithaca, NY; Dave's Blues Mix broadcast on Star FM, Tasmania Australia CM; Blues Exclusive #263 with Blues Show Bob and more...
WE HAD THE NUMBER ONE SONG ON THE ROOTS MUSIC REPORT WITH OUR SMASH HIT "MUSCLE MEMORY"!!!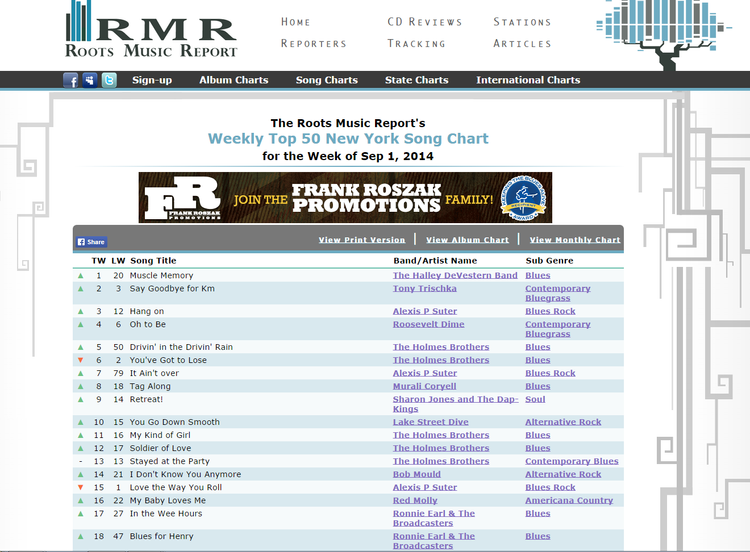 RADIO NEWS: 
Woo-HOO, We are psyched and proud to have one of the Top 25 CDs at Bluesdebut.com!!!  We debuted at #12 on their most-played Blues radio chart!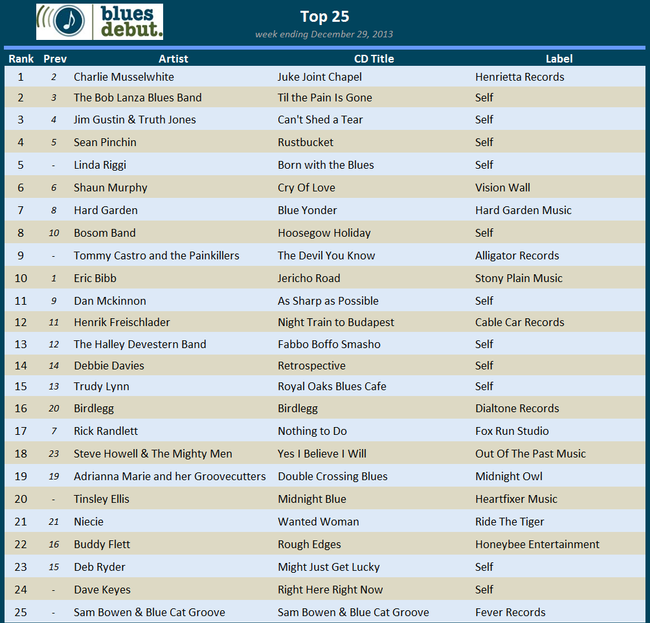 What an honor to be # 26 on the same list of frequently-played artists as Paul McCartney, Allen Toussaint, Billie Joe Armstrong & Norah Jones, Gov't Mule, Blind Boys of Alabama and other greats! Big love and gratitude to George Graham at WVIA in Wilkes-Barre PA! 

WE WERE JUST ADDED TO WFIV, A MAJOR COMMERCIAL STATION IN KNOXVILLE, TN!  www.myi105.com
MORE STATIONS SPINNING FABBO BOFFO SMASHO:
WBFO, BUFFALO NY
KTUH, HONOLULU HI
WMNF, TAMPA
KAXE, NORTHERN MINNESOTA
KDNK, CARBONDALE, CO
KRVM, EUGENE OR
KDEC FM, DECORAH IA
KVNF, PAONIA CO
WERU, EAST ORLAND/PORTLAND ME
WUKY, LEXINGTON KY
WYSO, DAYTON OH
WMHB, WATERVILLE ME (COLBY COLLEGE)
KBOO, PORTLAND OR
WVIA, WILKES-BARRE PA